Pakistan is China's Israel.

General Xiong Guangkai
Beijing's bedflow in the early 1950s was India.The sino soviet split was one of several factors that eventually prised the relationship apart, but the 1950s represent the high point of "Hindi-Chini bhai bhai". In 1950s it was Pakistan that had territorial issues with China. In 1959 Ayub Khan announced that "any Chinese intrusion into Pakistani territory would be repelled by Pakistan with all the forces at her command ".
The 1962 dispute was a chance to strengthen Pakistan's own hand on Kashmir, and Bhutto urged Ayub to take back his inopportune statement and instead send a signal to Beijing by "questioning the very basis" of India's stand.
Anecdotes from the visit of a Pakistani military delegation to Beijing in 1966 as they attempt to replace the equipment that had been lost in the 1965 war, are illustrative: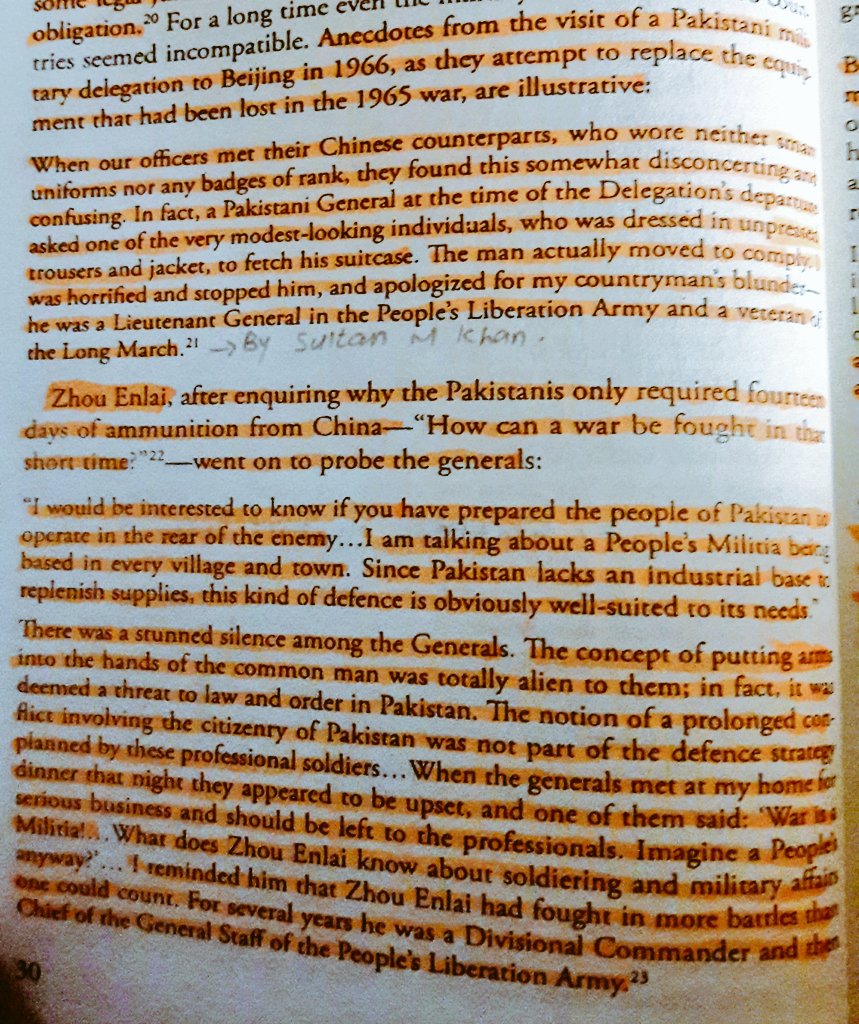 The "pro-bomb" campaign led by Bhutto and others in foreign ministry and the "anti-bomb" campaign led by finance minister M Shoaib and number of close economic advisors to Ayub Khan. Dr. AQ Khan briefed Chinese on how European-designed centrifuges could help China's enrichment program. "Chinese experts started coming regularly to learn the whole technology, our teams stayed there for weeks to help. But what Pakistan got in return was far greater"
There is a view that if u subtract China's help, there wouldn't be a Pakistani nuclear program. As one Pakistan nuclear scientist puts it "the development of nuclear weapons by Pakistan would've succeeded but without Chinese assistance this would have taken longer".
China also supported Pakistan's nuclear program by exporting 5K ring magnets in 1994 which enabled Pakistan to double its production of highly enriched Uranium. It was suspicion that China tested a warhead on Pakistan's behalf in 1990 in Xinjiang in advance of 1998 Pakistani explosions.
King Abdullah warned US envoy in 2009 that if Iran crosses the nuclear threshold "we will get nuclear weapons and there was an intelligence report about warheads "wailing and ready" in November 2013 when Iran intermediate deal was on the eve of completion. Pakistan repaid the favour when it could, though as much by chances as by design. But none of these chances gift compare to the 30Year process of Chinese support for Pakistan's nuclear program.
Re-Hyphenating India
Nehru stated in 1962 that it was "naive" to think that India and China were confronting because of territorial disputes, rather he stated it was due to "deeper reasons". China's vice premier stated that "this accusation by India against China is solely for the purpose of develpmnt of its nuclear weapons. People's Daily claimed that it wrecked in a single day the results of improving relations b/w 2 countries over the past 10 years.
In 2008 there was meeting of Nuclear Suppliers Group in Vienna leading by US to reach a decision whether an exemption should be granted to India to engage in civil nuclear trade. As a result, India would not place all its nuclear facilities under safeguard.
China on Islam
China had a good understanding of almost everything in Pakistan: political, security or economic that might affect the bilateral relationship but there's one piece they don't get: Islam.
"We are fighting a jihad & this is 1st Islamic international brigade in modern era. The Communists have their international brigades, the WEST has NATO. Why can't Muslims unite and form a common front?" Hamid Gul, Pakistan's former DG ISI said while talking about Mujahideen.
China and War on Terror
Extremists group in Pakistan and Afghanistan may not always have been willing to support terrorist activities in China itself, they consider India,US and other countries to be high priority targets. Oppression on Uyghurs Muslims by Chinese state never mobilised angry protests in Pakistan.
Al-Qaeda issued its 1st threat to China calling on "our Muslim brothers in Turkistan "to seriously prepare for Jihad, promised retaliatory attacks and in 2012 linked the killing of a Chinese national to "revenge for the Chinese government killing of our Muslim brothers in Xinjiang."
"The US wants to incite conflict b/w China & Muslims. If Pakistan, Afghanistan, China and Iran get united, the US and India will become ineffective".

Osama bin Laden claiming in 1977.
.
Maulan Fazl-ur-Rehman had managed to straddle the worlds of militancy & mainstream Pakistani politics. In 2006 he helped during peace deals with TTP & in 2007 helped to release the Lal Masjid hostages but in the same year his name was on Taliban's hit list along with other officials.
Investment
Investors are like pigeons, when a government frightens them with poor decisions they all fly off together.

Zhu Rongji to General Musharraf in 2001
Even in good years of Pakistan between 2000&2005 when overall FDI increased by 600%,investment flow from China amounted to barely 400,000$. In 2013 the total Chinese investment in country still ran only between $5billion & $7billion.
"For us Karachi is fine,it's for Pakistan that Gwadar is really useful. They want us to upgrade it to a naval base that can be used by both Pakistan and China ships. The main reason? India." said one Chinese expert.
In 2011, China's largest private sector miner, kinghi group pulled out of a $19 billion deal that would have been the country's largest, citing security concerns for its personnel following bombings in Pakistan's major cities.
MCC and its partner, Jiangxi Copper prepared a mammoth bid for a mine that holds world's 2nd largest copper deposit, worth as much as $88Billion in Longar province of Afghanistan. It could generate $390Million of tax revenue a year, nearly 50% increase in govt income. 6 years later, Hamid Karzai toured China to determine whether the whole deal might be abrogated. Real question was whether the Chinese companies would risk taking a ride at all?
Tea with the Taliban
In Nov 2000,"Lu Shulin"visited Afghanistan where he became 1st senior representative of a non-Muslim country to meet Taliban's emir (Mullah Omer) & one of only a tiny handful of non-Muslims that Omer ever dealt with.
Within two days of 9/11 attacks,US had delivered to Pakistan not only"with us or against us" ultimatum but a list of demands rangd from break in relations with Taliban to an extensive pkg of military and intelligence cooperation. China had not broken its contracts with Taliban since the war & meeting b/w two sides continued, including a visit to Beijing in 2002 from the brother of one of most powerful Taliban commanders, Jalaluddin Haqqani.
"China is willing to help Pakistan defend a Pakistani bomb. We won't help them protect an Islamic bomb. If it's under the control of mullah,then everything changes. It's not unconditional". noted one Chinese Official.
---
The author is a patriot Muslim, optimist, avid reader and learner from Shakargarh, Punjab.
---